JULY SPECIAL
INDIAN HEAD MASSAGE &
DETOX FOOT BATH COMBO
$75
Indian Head Massage
An Indian Head Massage is a form of relaxation massage that focuses on the face, head, neck, shoulders, upper back, and upper arms, which are important energy centers within the body. This form of massage is very relaxing and has a balancing effect. This technique helps to release stress and tension, creating a sense of peace and wellbeing. This type of massage is done over the clothing in a seated position.
What are the benefits?..(READ MORE)
Detox Foot Bath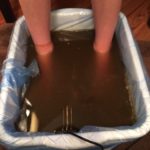 An incredible "Ionic Foot Bath Spa" removes toxins from joints, kidneys, and the liver, leaving your body pH balanced and in a state of overall harmony.
The benefit includes an enhanced immune system, which assists in:…