SEPT COMBO  SPECIAL
SWEDISH RELAXATION MASSAGE &
DETOX FOOT BATH COMBO
$95
Relaxation Massage
If you love heat and relaxation, you'll love this full-body 1-hour relaxation massage.  With the assistance of hot packs, hot stones, and thermal palms (soft alternative to hot stones) and gentle strokes to release stress in the tissues and muscles.
Detox Foot Bath
Afterward, sip on a cup of tea and treat your feet and body to a 40 min detox foot bath, salt scrub, and mini reflexology session.  Approx 1 hour in length.
Leave feeling restored, relaxed, and filled connected on a body/mind/spirit level.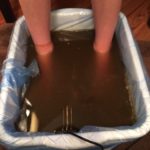 An incredible "Ionic Foot Bath Spa" removes toxins from joints, kidneys, and the liver, leaving your body pH balanced and in a state of overall harmony.
The benefit includes an enhanced immune system, which assists in:…