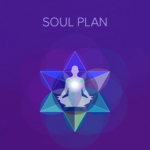 Soul Plan

– Do you feel misunderstood?
– Do you feel stuck or blocked?
– Do you feel you have lost direction in life?
– Do you have a sense that there is something more for you in this lifetime?
– Do you question your life's purpose?
– Why did I not get a user manual at birth?
In truth, we are all born with our personal and unique user manual in the form of your name.
Your birth name has hidden within it your life's blueprint, the life's journey your soul intended. Before we are born onto this earth our souls plan the destiny and goals we will strive towards. This plan brings with it a unique combination of goals, talents, and challenges that we must conquer and embrace to reach our soul destiny.
You'll receive a digital copy of your Soul Plan Chart and manual and also a video recording of your reading the day after the session. We'll go over each section together, beginning with the Worldly sections of challenges, talents, and goals and then the Spiritual sections. You'll learn how to apply your Talents to overcome your challenges and reach your goals.
Finally, you will learn your Soul Destiny. All of this information will fit together to help you understand what you've been struggling with, recognize your natural talents, and provide a map for achieving your life purpose. You'll have the clarity to move forward to fulfill your highest potential in this life.
The Soul Plan Reading is a 90-minute virtual session together over Zoom, but I also spend 60 minutes on my own beforehand preparing your chart and related reports.
Soul Plan and Soul Transformation Therapy can be used as stand-alone or combo to accelerate your spiritual destiny.
---
All Time For Self therapies are not a substitute for any other medical care or consultation and offer no claims of treatment or cures. Always consult your physician for diagnosis and treatment.