How To Ease Your Body Into Fall
Have a Healing Drink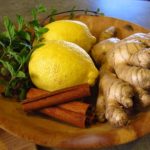 If the shifting seasons have already landed you a cold, make a soothing pot of ginger cinnamon tea.  Know to have genuine healing powers, cinnamon helps relieve headaches and can stabilize blood sugar, while ginger soothes upset stomachs and has anti-inflammatory properties.
Rather than buying a box of tea bags, you can make a much more effective brew at home by putting together a few common ingredients.  Simply put 3 – 4 quarter-sized slices of ginger into a teapot of boiling water.  Add a cinnamon stick, lemon and some brown sugar to taste, let it steep for about five mines, and strain into a cup.  Enjoy two cups a day, and your symptoms should begin to ease within a matter of days.
Combat Cold and Flu Season with Raindrop Therapy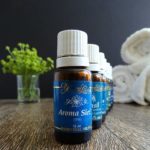 Raindrop Therapy is the perfect way to combat the cold and flu season that is currently upon us.  Raindrop Therapy combines vita flexing, reflexology and massage therapy techniques to restore balance and alignment to the body.  Young Living Essential Oils are applied to the body in a formula designed for relaxation and detoxification.  The client may experience areas of tension or soreness being released through the treatment.
Therapeutic grade essential oils, antibacterial, antiviral, and anti viral are applied to the feet and spine.  The oils used for this massage are Valor, Oregano, Thyme, Cypress, Wintergreen, Basil, Peppermint, Marjoram, and Aroma Siez.  These oils fall like raindrops on the spine when applied to the back.  Massage techniques are integrated to assist oils in permeating the skin.  The combination of oils that are used facilitate flushing toxins, dormant viruses, and bacteria that exist along the spine, thereby assisting the body in restoring balance and harmony. Hot moist towels are placed on the clients back that forces the oils into blood stream so they can start working immediately.  The aromatherapy is amazing and powerful. Raindrop therapy assists in reducing chronic pain, relieving/reducing stress, relaxes muscles, reduces inflammation, improves circulation, helps to detox the body systems, and improves immune function.
BOOK IN TODAY TO EXPERIENCE AN AMAZING RAINDROP MASSAGE TO ASSIST YOU GETTING THROUGH COLD AND FLU SEASON.  Sale held over this month.
Great Idea for Pumpkin   (Yummy)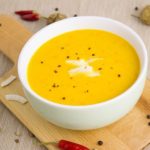 Coconut Curry Pumpkin Soup
(Serves 4-6   Total Time:  40 min.
Ingredients
1/2 C virgin coconut oil
1 C chopped onions
2 cloves garlic, minced
4 cups chicken or vegetable broth
1 1/2 tsp curry powder
1/2 tsp salt
1/2 tsp ground coriander
1/2 tsp crushed red pepper flakes
2 C pumpkin puree (15 oz)
2 can full fat coconut milk
Pepper to taste.
Directions:
Heather coconut oil in deep pot over medium-high heat.  Sit in onions and garlic; cook until onions are soft, about 5 min.  Mix in broth, curry powder, salt, coriander and red pepper flakes.  Cook and stir until mixture comes to a gentle boil, about 8-10 min.  Cover and simmer for 20 min, stirring occasionally.  Whisk in pumpkin and coconut milk, cook for another 5 min.
Pour soup into a blender, filling only half way and working in batches if necessary; process until smooth.  Return to a pot, and reheat briefly over medium heat before serving.
Positive  Balancing Thoughts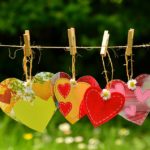 Dreaming, after all, is a form of planning.   – Gloria Steinem –
There are two ways of meeting difficulties.  You alter the difficulties or you alter yourself to meet them.  – Phyllis Bottome –
You never lose by loving.  You always lose by holding back.  – Barbara De Angelis –
Holding on to anger, resentment and hurt only gives you tense muscles, a headache and a sore jaw from clenching your teeth.  – Joan Lunden –
Change is the law of life.  And those who look only to the past or present are certain to miss the future.  – John F. Kennedy –